Communiqué
Posté le 12:32 06-07-2022, modifié le 12:32 06-07-2022 par Tournons la Page
The Government of Botswana and the National Democratic Institute (NDI) are co-hosting "International Summit on Constitutionalism and Democratic Consolidation in Africa" in Gaborone, Botswana from July 6-8, 2022. The summit brings together current and former political leaders, representatives of regional organizations, civil society activists, and academics in a conversation aimed at supporting respect for constitutional rule on the continent, and strengthening the political discourse in favor of respecting presidential term limits. Tournons La Page is a partner of this summit, represented by David DOSSEH (Togo), Nathalie ZEMO-EFOUA (Gabon) and Janvier BIGIRIMANA (Burundi).
"Botswana is pleased to host this important summit to celebrate democracy and strengthen its future sustainability by promoting dialogue on constitutionalism and respect for the rule of law. Holding this high-level event is a testament to Botswana's commitment to democracy both at home and abroad," said His Excellency Dr. Mokgweetsi E.K. MASISI, President of the Republic of Botswana.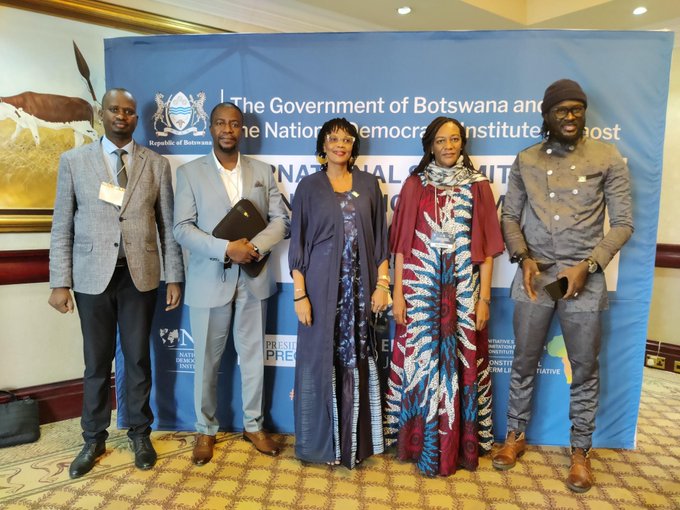 Description: Tournons La Page and AFRICTIVISTES representatives at the International Summit on Constitutionalism and Democratic Consolidation in Africa: (from left to right) Janvier BIGIRIMANA (TLP Burundi coordinator), David DOSSEH (TLP Togo coordinator), Aisha DABO, Nathalie ZEMO (TLP Gabon coordinator) and Cheick FALL, July 2022 

 

Following President MASISI's opening speech, David DOSSEH - TLP Togo's national coordinator - handed over the "mandate limitation baton" to President MASISI who pledged to respect the Constitution.

This presentation of the baton is a strong symbol of the action of Tournons La Page and all the partners committed to democratic change.
Back in 2021, Tournons La Page co-organized with Africans Rising, Synergie Togo, les UST, le Front Citoyen Togo Debout et le Centre de Recherche sur l'État en Afrique, the Second West African Summit on Good Governance, Succession and Democracy in Cotonou (Benin). On this occasion, David DOSSEH passed the baton of relay to the Beninese President, His Excellency Patrice TALON, who said "I commit myself and I take you to witness to pass this relay baton in the third Sunday of May 2026 to the one who will have the trust of the Beninese people". "I will take good care of it (the baton), and I will pass it on to my successor himself, telling him to read the number two well".
                  Description: Beninese President, Patrice TALON, receives the term limit baton, July 2021

 

These achievements are a huge satisfaction for all the participants and organizers of the term limits campaign. According to the Afrobarometer, 77% of Africans support term limits and 69% prefer democracy to any other form of government. 


Additional documents:
- Letter from President MASISI agreeing to receive the constituents' limitation baton : original (English)