Concert
Posté le 07:59 26-08-2022, modifié le 07:59 26-08-2022 par Tournons la Page
The Citizen's Campaign for Term Limits (Original name in French : Campagne Citoyenne pour la Limitation des Mandats) - coordinated by Tournons La Page - is an initiative that seeks to promote democratic change through innovative democracy and good governance awareness activities. To learn more about this campaign, please watch the video below : 

(Please enable the English subtitles before watching this introduction video.) 
This campaign will be inaugurated during a MAJOR PANAFRICAN CONCERT which will take place in Dakar (Senegal) on September 17, 2020 and which will gather 11 artists from 7 African countries: 
Meiway from Ivory Coast 
Didier Awadi from Senegal
Elom 20ce from Togo
Nourrath la Debboslam from Niger
Nanda from Gabon
Momo Kankua from Togo
Léman from Benin
Papy Kerro from the Democratic Republic of Congo
Amen Jah Cissé from Togo
Lyne des mots from Ivory Coast
Don Stash from Togo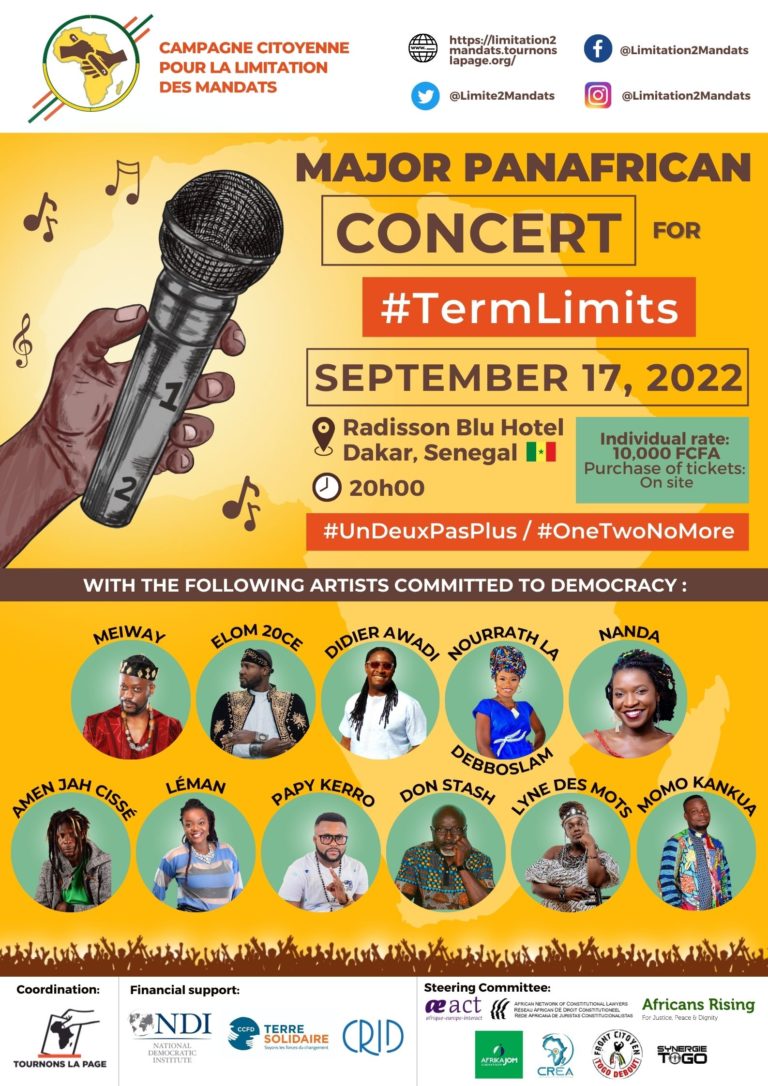 For the latest information on this concert, we invite you to visit the campaign website and to follow the social networks listed below: 
Site web de la Campagne Citoyenne pour la Limitation des Mandats
@Limite2Mandats

@Limitation2Mandats / Facebook event : https://www.facebook.com/events/1140532223554958?ref=newsfeed 

@limitation2mandats


📢 Other multimedia content from the Campaign:
⏩Conflict and power capture: what relationship? 
(Please enable the English subtitles)